QW-857S SEVEN SEGMENT LED DIGITAL SIGNAGE (WINDOWS DISPLAY):
When you are looking for a low-cost smart queue mamagement system, QW-857S counter display (LED digital signage) with Smooth software package is one of the best options, so it achieves a low-cost system, high reliability, simple and easy to use.
Other option: DOT MATRIX WINDOWS DISPLAY QL-4.8WD-XX

QW-857S WINDOWS DISPLAY - Download catalog

Amazing LED digital signage (teller display) for a low-cost option 8 digit, 7 segments in fashion Aluminum frame and Acrylic front panel, Wall and ceiling mounting.
The signage consists of eight digits (57mm, seven-segment units); the first four digits (for service code and ticket number) are red the four digits are green (for arrow and teller number).

Technical specifications:
1. Possibility of installing two side screens to look as one signage.
2. Possibility of installing two modules at the same directions to look as one screen consists of two lines (vertical cascade-able).
3. 7 SEGMENT "Red, Green, White Red & Green" are available, 8 Digit.
4. Equipped with Watchdog time.
5. It can show your ID when you request this automatically.
6. At calling, the ticket number is flashing.
7. The additional three characters in green will constantly show the number of the teller as long as the employee is ready or the clerk is logged in.
8. 1-999 numbers + 16 characters + 2 symbols
9. 16 Characters for services code. New
10. 1-999 for ticket numbers.
11. 1-127 teller displays
12. The QW-857S LED digital signage can use with a Full edition software package, IQ software package, and smooth software package.
13. Buzzer built in to give a sound signal at calling Optional*.
14. 2 mints programable MP3 player built in to give a sound signal at calling Optional*. New
15. Shown (busy) During the Employee or the clerk in busy mode.
16. Shown (rEAdy) During the Employee or the clerk in Ready mode.
17. The arrow between ticket number and teller number can on or off by configuration.
18. The data connection is RS-485, Wireless data connection is Option.
19. Dimensions: H: 120mm, W: 394mm, D: 42mm.



Other option: INACTIVE WINDOWS DISPLAY LQ-88


Related subjects: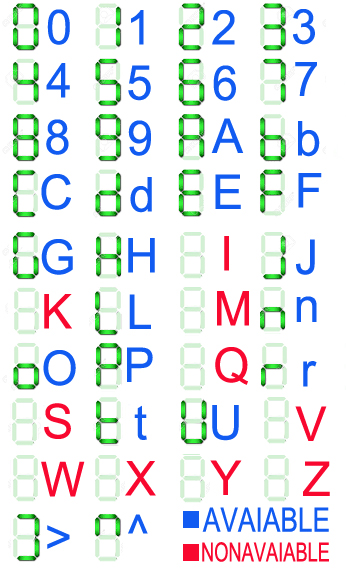 ---
7-segment counter display
LED digital signage
128 counter display
8 digit counter
QW-857S counter display
teller display for a low-cost queue system
57mm teller display
programmable MP3 player for calling
waiting in line
walk in appointments
digital signage cost
Operational lifespan
MEAN TIME TO FAILURE
MTTF
MEAN TIME TO REPAIR
MTTR
MEAN TIME BETWEEN FAILURES
MTBF
digital signage products
signage business
queue machine system
CDU
queue system display